voting in this primary
All registered voters may vote on their districts' nonpartisan candidates and ballot measures. However, only voters who have registered in a major party (Republican or Democratic), may vote in the Primary Election for their party's candidates. The deadline to register to vote in the May 2022 Primary was Tuesday, April 26.
(NOTE: Candidates running as  MINOR PARTY OR NONALIGNED candidates for US Senate, Congress, Oregon Governor, and Oregon Legislature are NOT on Primary Election ballots. They will be running in the November General Election.)
LWv information Resources for Voters
The League of Women Voters has invited all candidates running in Multnomah County to participate in VOTE411.org, in our video voters' guides and podcasts, and in our printed Voters' Guide. You can find nonpartisan information using these resources.
Personalized Vote411.org Voting Guides
The League can create a custom voters' guide for you! Go to Vote411.org and enter your residence address to see information about candidates and measures on your ballot. Vote411.org has information in both English and Spanish. The same information that is in our printed voters' guides is also on the Vote411.org website. In fact, each candidate's information on vote411.org may be updated by the candidate up through Election Day. Vote411.org also has videos of the candidate interviews from our Video Voters' Guide, videos of our voter forums, and videos that the candidates themselves add.
Voters' Guide in English and Spanish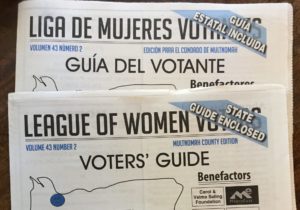 For this Primary Election, the Portland League has prepared independent, nonpartisan voting guides to give voters reliable information about the candidates. League members have asked the candidates substantive questions. Then we published their unedited responses in the guide.
We work to keep all the information in each Voters' Guide balanced and fair.
Links to the pdf copies of the English and Spanish Oregon and Multnomah County Voters' Guide to read online
LWV of Oregon Primary Election Voters' Guide in English (candidates for federal and statewide positions)
LWV of Portland Multnomah County Primary Election Voters' Guide in English (Candidates for State Legislature, Metro, County and City positions in Multnomah County)
Guía del Votante, EDICIÓN DE OREGÓN, Elecciones Primarias (Candidatos/as para los puestos en todo el estado)
Guía del Votante, EDICIÓN para el condado de Multnomah (Senadores y representantes de OREGÓN, Juez de la corte de circuito, distrito 4,  Metro, Condado de Multnomah, la ciudad de Portland)
Printed copies of the LWV Voters' Guides
For the 2022 Primary Election, you can find printed copies of our Voters' Guide in English and Spanish at all Multnomah County libraries, the Elections Office at 1040 SE Morrison Street, Portland, and the Gresham Voting Center in the Multnomah County East Building, 600 NE 8th Street, Gresham,
We are also delivering copies to neighborhood grocery Stores, markets and other business locations.
City of Gresham Ballot Measure 26-223
If you live in Gresham or Rockwood, you may wonder about this measure on your ballot. Here is the explanation of what it will do. There is no financial impact for taxpayers.
Video Voters' Guide

Our Video Voters' Guide features eight- to ten-minute interviews with 72 candidates, running in the Primary Election in Multnomah County.  The candidates for each office are grouped together in the Video Voters' Guide list, so you can easily compare them. We also coordinated with the Washington County and Clackamas County Leagues. They have produced a Video Voters' Guide of interviews with candidates running in those counties. Some of these candidates' districts include part of Multnomah County.  When the Video Voters' Guide recordings for these candidates became available, we added their interviews to our list. The Video Voters' Guide now includes Democratic (D) and Republican (R) candidates running for US Representative in Districts 1, 3 and 5, and for Governor; nonpartisan candidates for Commissioner of the Bureau of Labor and Industries; candidates (R and D) for the Oregon Legislature; and nonpartisan candidates for positions in Metro, Multnomah County, and Portland governments.
As an additional service for the May 2022 Primary Election, we have added podcasts of the candidate interviews recorded by the LWV of Portland. Links to the podcasts are posted next to the links for the Video Voters' Guide for each candidate. 
Videos of voter forums
For the 2022 Primary, the League is presenting five election forums for the following contested races: Multnomah County Chair, Multnomah County Sheriff, Portland Auditor, Portland City Council Position 2, and Portland City Council Position 3.
The links to the videos and podcasts of these forums are below:
The videos also will be posted on Vote411.org. Below are the replay dates for these forums on public access TV channels.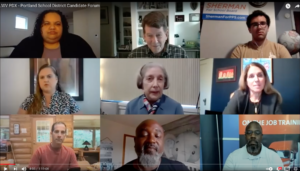 In a forum, the candidates for each position are invited to answer questions. The candidates  are asked similar questions and their responses are timed, so that they all have the same opportunity to respond. Voters are able to compare the candidates based on their responses.