The League of Women Voters of Portland is governed by a board of unpaid volunteers. We have one paid part-time staff member. We are grateful for all the time these leaders and our other volunteers contribute to our mission of encouraging civic participation and "Making Democracy Work."
League Leaders
Doreen Binder, President       president@lwvpdx.org 
Doreen Binder (re)joined the League of Women Voters in 2014. She has spent more than 35 years advocating for the rights of women and children. Doreen served as Executive Director of the Coos Women's Crisis Service for ten years before moving to Portland to work on the issue of housing and homelessness. She retired in 2015 after serving for twenty years as Executive Director of Transition Projects. Doreen joined the Portland Board in 2016 and agreed to serve with Fran Dyke as Co-President in 2017. She was elected as President in May 2018. She has served on numerous local, state and national boards and currently volunteers at Glenco Elementary School and at the Title Wave Library Book store. Doreen is originally from Chicago.
---
Debbie Kaye, 1st Vice President, Development      development@lwvpdx.org
With an international relations degree from Brown University, Debbie first worked in the peace education field.  She spent two years in Santiago, Chile, where she learned Spanish (with a strong Chilean accent!), worked as a buyer for a Brazilian department store, and traveled extensively in Latin America.  Bracketing her Chilean experience, Debbie worked in finance leasing in San Francisco.  Returning to her native Portland with her husband and two young sons in 1990, Debbie joined the League and also became deeply engaged at Catlin Gabel School where she chaired the alumni board and served on the board of trustees as well as parent groups.  Volunteer coordination became her strength, first at Friendly House Preschool, and then for Catlin Gabel's legendary rummage sale (1,000 volunteers!), Eliot Institute summer camp, and the 2008 LWVUS national convention.  She has led the nominating process for several organizations.  For the Portland League, Debbie was a unit leader for many years and helped coordinate the Speakers Bureau. She has served as Membership chair, and assists with Voter Service, as part of the Speakers Bureau and  a moderator for candidate and ballot measure forums.  She enjoys gardening, a book group, singing, target shooting, and travel.
---
Stephanie Hertzog, 2nd Vice President, Voter Service      voterservice@lwvpdx.org
Stephanie had met and admired many LWV members over a 20-year career in senior living and healthcare, and finally became a member in 2013 after being inspired by the longtime and lifetime members she met in Portland. She has supported Voter Services work through leading the Video Voters Guide and volunteering for Voter Registration. Professionally, Stephanie has worked in leadership positions in business development, marketing and communications for healthcare, senior services, and manufacturing and currently works for a new healthcare technology company closely affiliated with Portland State University and ohsu. Stephanie and her spouse moved to Portland in 2010 from Washington DC and other east coast cities. She lives in North Portland, advocates for healthy city living, and enjoys adventure, camping, travel, cooking, theatre and connecting people.
---
Marion McNamara, 3rd Vice President, Program
      civiced@lwvpdx.org

Marion joined LWV in 2014. She served as the editor of the LWV of Portland Voter newsletter from 2015-17. At the same time, she was active as an observer for advocacy on environmental issues, especially the Portland Harbor Superfund Site. She also helped with compiling the results of membership consensus on studies and program planning, was a delegate to the LWVUS and LWVOR conventions and is an active member of Unit 6. Her background is in teaching and training. Before moving to Portland, she was a university administrator for international programs at OSU and a Peace Corps volunteer. She currently volunteers in Portland Public Schools.
---
Anne Davidson, Secretary       secretary@lwvpdx.org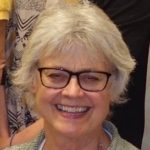 Anne joined the Portland League of Women Voters shortly after she  arrived in Portland 30+ years ago. Having moved away from everyone she knew, she says she joined LWV because she wanted to make sure that she continued to be "in the company of smart, well-informed and interesting women. How right I was!" Since then, she has served in a number of capacities including working on the newsletter, serving as Secretary, Board Treasurer and Endowment Fund Treasurer. Her involvement tapered off as her two children were born and her role in the family business increased. Her children are now out of the house and she hopes to retire in the next year or so. So, she's back "and honored to serve as your Secretary and continue as the Endowment Fund Treasurer."
---
Peter Englander, Treasurer      treasurer@lwvpdx.org
Peter Englander spent fifteen years at the Portland Development Commission, first lending to businesses of all sizes then managing all public investment as a development manager in Old Town/Chinatown as well as other central city districts, while also managing a citywide real estate loan program coordinating PDC's involvement in the Central City 2035 Plan. Prior to moving to Portland, Peter was the CFO of an employee-owned outdoor recreation company with 600 employees in North Carolina, and earlier performed many real estate finance and treasurer functions for a real estate investment division of American Express in Chicago, IL. Peter grew up in Cleveland, Ohio, has a B.S. in Business from Indiana University and an MBA from DePaul University.
---
Directors
Debbie Aiona, Action Chair      action@lwvpdx.org
Debbie grew up in the San Francisco Bay Area and first joined the League in 1979 in Salt Lake City, UT. Other places where she was a member include Greenville, S.C., Lexington, KY and Portland. As a longtime resident of Portland, she has held a number of positions in the local League including president. She now serves the organization as a board member and action committee chair. Issues on which she personally focuses include affordable housing, police oversight, campaign finance reform and urban renewal. In addition to her work on the LWV Portland board, she is a board member of the Coalition of Advocates for Equal Access for Girls, a statewide organization that works to ensure that girls receive equal access to all of the appropriate gender-specific support and services they need to help them develop to their full potential.
---
Carol Cushman, At-Large   atlarge3@lwvpdx.org
Carol joined the Portland League of Women Voters in the late 70's. An early initiation was working on a local energy study with members who became truly great mentors. She remembers working on plans for hosting the presidential debates at the Civic Auditorium. (It was canceled when the League insisted the third party candidate met criteria to be included; the political parties took over sponsoring the debates in future elections.) After retiring, Carol returned to active League participation and served in various capacities during the early 2000s, including helping with the LWVUS national convention in Portland. She served as local president 2005 – 2008. Recent activity with the League has been in the realm of Action. Carol regularly attends the Portland Utility Board (PUB) committee and sub-committee meetings, related to the Portland Water Bureau and Bureau of Environmental Services. She is also active in areas related to campaign finance reform and police reform. Carol is a retired teacher; her career included various positions, primarily working with middle-school-age children in Minnesota, Tillamook, OR, and Portland.
---
Kristin Eberhard, Membership Chair      atlarge1@lwvpdx.org
Kristin Eberhard is a senior researcher at Sightline Institute, the Pacific Northwest's regional sustainability think tank. She researches, writes about, and speaks about democracy reform and climate change policy. Before joining Sightline, Kristin worked at the Natural Resources Defense Council (nrdc), leading its California climate work in San Francisco, then moving to its Southern California office to help the largest municipally owned utility in the country get off coal and onto energy efficiency and renewables. She also taught courses on climate change and energy law at Stanford Law School and ucla School of Law. Kristin graduated with honors from Stanford University, cum laude from Duke University School of Law, and earned a Masters of Environmental Management from Duke's Nicholas School of the Environment. She loves biking with her husband and son. Find her latest research at www.sightline.org/author/kristineberhard/ and follow her on Twitter at @KristinEberhard.
---
Judy Froemke, Units Coordinator     units@lwvpdx.org

Judy  joined the Portland League of Women Voters in 2013 upon the invitation of Janet Wolf. Since then she has helped to register voters off and on at Naturalization Ceremonies and has organized and participated in Voter Registration Drives the previous three years under the supervision of Janine Settelmeyer. She has been Unit 4 Chair for two years and has much appreciation for Janet Youel's counsel and support. Before moving to Portland to live near her son and family, Judy was a Family Court Mediator for almost thirty years. She was on the state board of the Michigan Association of Family Court Mediators for ten years and organized/edited the training manual for Family Court Counselors/Mediators. This past year she spent almost 200 hours as a volunteer Master Gardener. She grew up in a home where the dining room table was generally covered with LWV material. She strongly believes in the grass roots role of the LWV units.
---
Mary McWilliams, Publicity Chair, Assistant to the President  press@lwvpdx.org
Mary and her husband Bob moved to Portland in 2005 to be close to their daughter and her growing family and other relatives. Mary joined the Portland League so she could learn about her new community. In the Portland League, Mary has been active as a board member, off-board member, and as an interested member with the SE Unit 2, various committees such as action, development, membership, and voter service, as president in 2011-13, and continuing on with publicity for Civic Education Programs and Voter Service Forums, the League's Multnomah County Directory of Elected Officials, and observing the monthly meetings of the Portland Housing Advisory Committee with Debbie Aiona. One of her favorite, not too distant League activities, was organizing (with other League members) a trip for League members to Richland, WA for an all-day tour of the Hanford Nuclear Facility. Mary is a big reader and enjoys her books groups, sings in a community chorus, golfs, loves to cook, continuing to travel, and being close to family.
---
Kim Mason, Outreach Chair
      atlarge2@lwvpdx.org

Kim grew up in Portland. She received a BA from the University of Oregon and a JD from the University of Minnesota Law School.  Kim is a practicing attorney and devotes a significant amount of her time to social justice and civic organizations, with a passion for criminal justice reform and civil rights. Kim joined the lwvpdx in 2016, where she has become involved in numerous programs and activities, and, most importantly, has been inspired by the deep knowledge, commitment, and insight of her fellow League members. When not writing briefs and attending meetings, Kim can often be found with her husband and their two children in a VW van in the great outdoors.
---
Maud moved to the Portland League from the League of Women Voters of Northern Nevada, where she was the co-president. She has taught economics, researched in India, and became Nevada's second state demographer. She served nearly two decades as planner in Nevada's state budget office, whose special projects included strategic planning and performance measures, developing a long-run capital improvement plan, helping with revenue forecasts, coordinating state agency responses to National Environmental Policy Act documents, and tracking bills and testifying during legislative sessions.
---
Margaret Noel, Voter Editor and Communications      newsletter@lwvpdx.org, communications@lwvpdx.org
Margaret first became an active volunteer with the League of Women Voters of Portland in 1993. She served on the LWVPDX Board from 1994 to 1998, and was elected to the LWV of Oregon Board in 1997. She was LWVOR President 2003-2007 and LWVOR Nominating Committee Chair 2009-11. As a League member and officer, she has worked on Voter Service, Action, Nominating, Development, Budget and Study Committees. For the 2008 LWVUS Convention in Portland, she was Floor Committee Co-Chair. She then served as a co-president, president and 3rd VP for LWV of Portland from May 2013 through April 2017. Professionally, Margaret worked as a middle-school science teacher and as a producer of educational audio-visual programs. Her husband Gordon is an emeritus professor of medicine at the Portland VA Hospital and OHSU. They have three daughters and six grandchildren. Margaret's interests include walking and hiking, her dog, grandchildren, gardening, antiques and travel.
---
---
Off Board Committee Leaders
Endowment Fund Committee
Corinne Paulson, Chair
Anne Davidson, Treasurer
---
Amy Beltaine, Facebook & technical assistance
     socialmedia@lwvpdx.org
Amy first used technology to make connections for the Lewis and Clark College English department, using an Apple Macintosh in 1984! Outreach, or as Amy terms it, "relationship-building" requires skills she's been developing as an entrepreneur. Amy serves as the webmaster for "UU Spiritual Director's Network". She grew up in the Willamette Valley with sojourns in Rhode Island and DC.; graduated with a Religious Studies degree from Lewis and Clark College which she parlayed into a Cornell University job teaching computer competency (irony intended.) Twenty-five years later, with an MDiv. from Meadville Lombard Theological School in Chicago, she returned to her beloved Pacific NW to establish her ministry while continuing the family tradition of supporting the League of Women Voters. (Her sister Rebecca served many years as the LWVOR Office Manager.) Amy lives in S.E. with her spouse Hawthorne, son Corey, a beagle, and a cat. She travels frequently, in her portable home, visiting Unitarian-Universalist congregations throughout the west.
---
Peggy Bengry, Nominating Committee Chair, Voters' Guide Editor       nominating@lwvpdx.org

Peggy joined the League in 2008, shortly after retiring from IBM as a software engineer. Her interest in the League came from seeing the respect accorded Kappy Eaton at a hearing in Salem on preference voting and learning from Kappy's testimony that LWVOR was doing a study on voting systems. Peggy volunteered to help with that study and, delighted with the talented, competent people she found in the League, went on to edit the Voters' Guide. She has recently served as the LWV of Portland Voter Service Chair. Peggy lives with her partner on their 82-acre farm in Yamhill County where she has planted 10 acres of hazelnuts. Farming, gardening and sewing are her favorite activities.
---
Betsy Pratt, Budget Chair, Study Chair – City Government Study   budget@lwvpdx.org
Betsy grew up in the Boston area, started her working career in Washington DC, and moved to Oregon in 1981 with her husband, Philip Thor. As a third generation League member, the Portland League was the first organization Betsy joined when they moved here – as a way to learn about local issues and to meet bright women. Since then, she has served in multiple roles, from study committees to local organizing chair for the 2008 LWVUS Convention in Portland. She has held numerous positions on the Portland Board, including local president from 2008 to 2011. She also served as chair of the LWVOR Education Fund between 2011 and 2013, and led the LWVOR voters' service activities for the 2012 and 2014 elections.
Both Betsy and her husband retired from the Bonneville Power Administration, where Betsy worked in management jobs ranging from internal consultant to library manager. Her last job was as facility manager for the agency' s office buildings and leased spaces. Betsy and Phil are now active hikers and travelers. She also volunteers with the Oregon Humane Society and the SMART reading program.
---
Paulette Meyer, Volunteer Coordinator
      volunteer@lwvpdx.org

Paulette joined the League in 1970 in Humboldt County, CA. There she served as Action Chair. After moving to Portland and joining the Portland LWV, Paulette has served as the leader of Unit 2, a member of Education Study Committee 2010-12, a member of the Speakers' Bureau, and on the Board as a Director and Treasurer. She has helped with ballot measure research and also served as Interim Chair of Civic Education (2015) and on the Program Committee. As a historian, Paulette has done research on the first women medical doctors. She taught history at Humboldt State University and at College of the Redwoods. Her husband Richard was a Professor of Biology and they have a daughter, a son and granddaughter.
---
Voter Registration      voterreg@lwvpdx.org
Contact through voterservice@lwvpdx.org
Speaker's Bureau     speakers@lwvpdx.org
Contact through voterservice@lwvpdx.org
Website & Social Media        web@lwvpdx.org
Amy Beltaine, Margaret Noel, Minda Seibert
---
League Staff

Aelora Roush, Office Manager       info@lwvpdx.org
Aelora became our Office Manager in September 2018. She has an International Baccalaureate diploma and has recently graduated with a Bachelor of Arts in Political Science from Portland State University. She comes to us from Schwabe, Williamson, & Wyatt.