Thank you for voting and your interest in the election.
Click here to view the Multnomah Co. and statewide results. The results will be certified on June 13.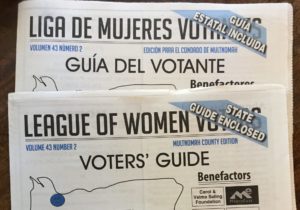 The League of Women Voters prepared reliable nonpartisan voting resources for the 2022 Primary Election.  Look on the May 17 Primary Election page for information about the candidates. Gresham voters can find the information about the ballot measure they passed.
Haga clic aqui para leer en línea LA GUÍA DEL VOTANTE 2022.
FOR THE MAY 17 PRIMARY ELECTION, we provided:
The last day to register to vote or to change your party affiliation was Tuesday, April 26. Only voters registered as Republicans or Democrats could vote on the candidates running in their party's primaries. All registered voters could vote on nonpartisan races in their election districts.
NOTE THAT CANDIDATES RUNNING AS MINOR PARTY OR NONALIGNED CANDIDATES FOR US SENATE, CONGRESS, OREGON GOVERNOR AND OREGON LEGISLATURE WERE NOT ON PRIMARY ELECTION BALLOTS. VOTERS WILL VOTE ON THEM IN THE GENERAL ELECTION.