The LWV of Portland has debriefed the experts about this election's meaning and impact. What do the results mean – locally, statewide and nationally?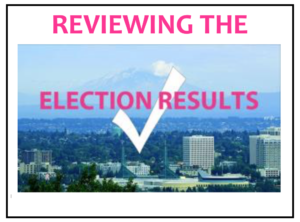 The League of Women Voters of Portland asked three experienced political analysts to discuss the 2020 election. Who voted?  What influenced the outcomes? What are the implications for our community and democracy. You can watch their recorded discussion on this website now.
View the recording of this program by clicking below:
The panelists are:
Barbara Dudley  – Senior fellow at Portland State University's Center for Public Service. Barbara appears regularly on OPB's Think Out Loud Friday News Roundtable. She is also a senior policy adviser for the Oregon Working Families Party. She formerly served as president/executive director, National Lawyers Guild; executive director, Greenpeace USA; and national AFL-CIO Assistant Director for Strategic Campaigns.
John Horvick – Director for Client Relations and Political Research at DHM Research, a nonpartisan and independent public opinion research firm. He regularly speaks on issues of community, policy, and governance to public officials and governing bodies and is a political analyst for OPB and Fox 12 News.
Priscilla Southwell – University of Oregon professor with expertise in U.S., European, and Oregon politics, elections, voting by mail, and political behavior. Previously, she headed the U of O Department of Political Science and served as the university's Associate Dean of Social Sciences.
Moderator: James Ofsink. James  currently leads the LWVPDX Criminal Justice Interest Group and is a member of the Police Accountability Study Group. He is also serving a four-year term as a Tax Supervising and Conservation Commissioner, appointed by the governor.
MetroEast Community Media recorded the program for streaming from this website and for later broadcast on public access cable channels. 
Funding for the recording was provided by the Carol & Velma Saling Foundation.